In 2016 FiveThirtyEight showed this chart depicting distributions for the percent of the popular vote for each candidate: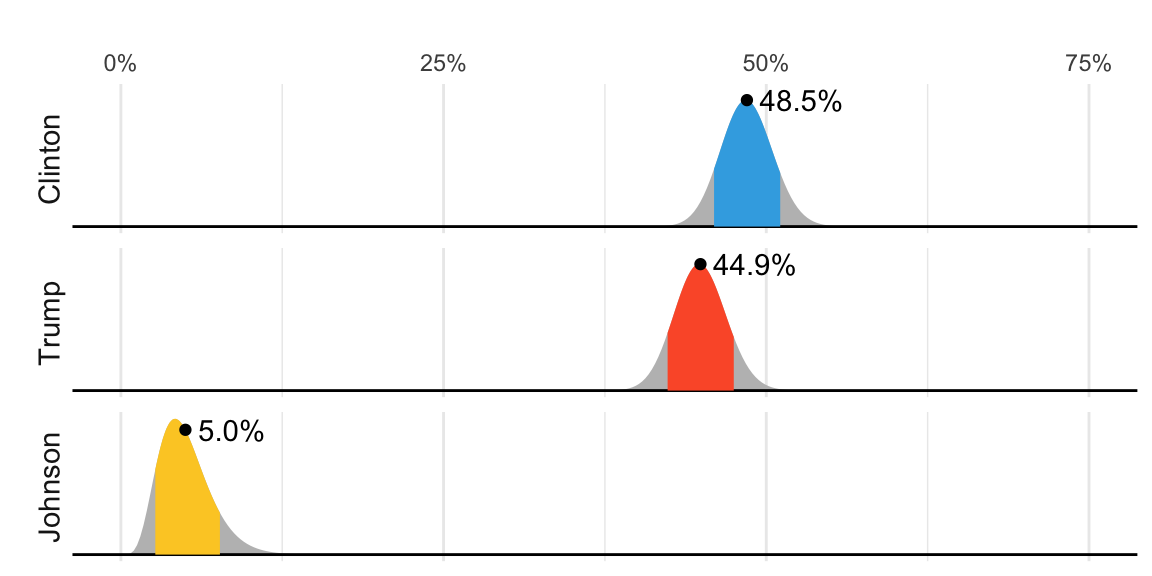 But what does this mean in the context of the theory we have covered in which these percentages are considered fixed. Furthermore, election forecasters make probabilistic statements such "Obama has a 90% chance of winning the election". Note that in the context of an urn model, this would be equivalent to stating that the probability \(p>0.5\) is 90%. However, the urn model \(p\) is a fixed parameter and it does not make sense to talk about probability. With Bayesian statistics, we model \(p\) as random variable and thus a statement such as "90% chance of winning" is consistent with the mathematical approach. Forecasters also use models to describe variability at different levels. For example, sampling variability, pollster to pollster variability, day to day variability, and election to election variability. One of the most successful approaches used for this are hierarchical models, which can be explained in the context of Bayesian statistics.
The approach described in the previous chapters, where the parameters is thought of as fixed, is often referred to as frequentist.
In this chapter we briefly describe Bayesian statistics. We use three cases studies, 1) interpreting diagnostic tests for a rare disease, 2) predicting the performance of an athelete, and 3) estimating the probability of Hillary Clinton winning in 2016 using pre-election poll data. For an in-depth treatment of this topic we recommend one of the following textbooks:
Berger JO (1985). Statistical Decision Theory and Bayesian Analysis, 2nd edition. Springer-Verlag.

Lee PM (1989). Bayesian Statistics: An Introduction. Oxford.